Cooling circuit drainer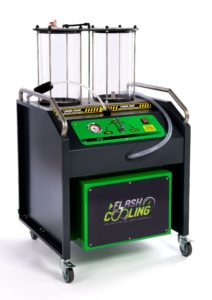 Flash Cooling® is a station for draining, purging and filling any type of cooling circuit..
Flash Cooling® makes it possible to drain, check the tightness, create a vacuum, fill the cooling circuit and recycle the used liquid.
The replacement operation is done by a direct connection to the expansion tank and does not require any disassembly on the vehicle.
Technical Specifications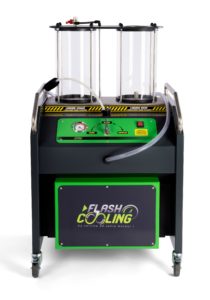 The Flash Cooling® station is equipped with 2 outdoor tanks each with a capacity of 10 liters. One allows the recovery and visualization of the used liquid extracted and the other allows the storage of the new liquid.
It is also equipped with 2 lower collection bins, each with a capacity of 25 litres, one for recycling used liquid to protect the environment and the other for storing new liquids.
Flash Cooling® is a completely autonomous machine operating from a 220 volt power outlet and and requires no compressed air source. It is a very quiet machine.
Flash Cooling® works on all types of vehicles, gasoline, diesel and even hybrid and electric vehicles.
Ease of use and speed of operation
The Flash Cooling® machine is very easy to use. After a direct connection of the machine to the vehicle's expansion tank, the operation of draining, purging and replacing the coolant is done in a few minutes.
Due its patent pending, the Flash Cooling® machine is innovative. The replacement of the coolant does not require the immobilization of the vehicle for hours, in less than 10 minutes the intervention is carried out.
Safety, Recycling and Respect for the Environment
The Flash Cooling® station protects the operator performing the service. There is no longer any direct contact with the coolant, thus avoiding the emanation of glycol toxic to humans and the risk of burns. It also improves the working posture. With Flash Cooling®, "broken back" or lying down positions under the vehicle are over.
Thanks to its tanks facilitating the recovery and recycling of used liquids, Flash Cooling® preserves the environment and ensures an ecological intervention by protecting the soil. The liquids being fully recovered, no pollution of the soil or workshops is possible.
Flash Cooling® station video
The Flash Cooling machine, at the service of your engine!
1.
The cooling circuit drainer…
2.
Simplicity Speed and Efficiency…
3.
An essential operation for the longevity of the engine…
4.
Know everything about the cooling system and coolants…